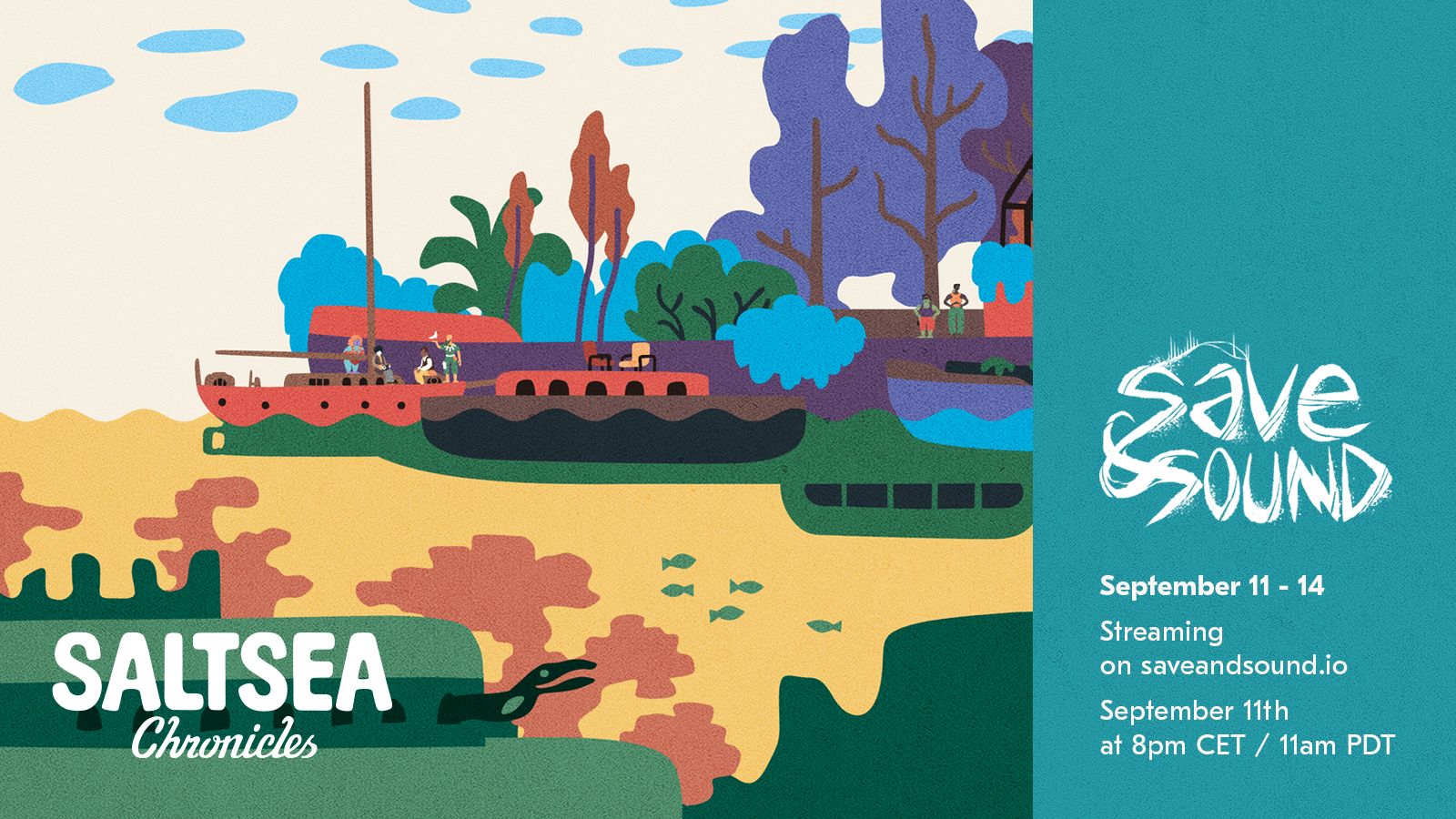 Save & Sound - A celebration of music in games
We're excited to announce that Saltsea Chronicles has been selected to be part of the online music festival Save & Sound which takes place on September 11th - 14th.
The 3-day live (online) event will showcase original content made just for Save & Sound and feature exclusive content from composer Eli Rainsberry (they/them) on the music of Saltsea Chronicles.
Save & Sound features concerts, deep dives, and mashups from 70+ games from around the world.
Saltsea Chronicles composer, Eli Rainsberry has prepared a special video just for the event which will be showcased live and online at 8pm CET / 11am PDT.
Eli is an IGF-nominated composer, sound artist and audio designer, specialising in music and sounds for animated, interactive, and interdisciplinary works. They have been making music and sounds for games and animation since 2015. Eli explains that:
"It felt important to me that because these island communities had different, but strong visual identities and unique cultures, that my compositions were also different per community,"
"Inspiration for the music of Saltsea was sought by exploring the small stories being told by members of those communities, whether it be through their day to day activities, or how they communicate to each other."
"I've really enjoyed using my music as a framework to help build up and support the story being told in the game; I try to be sure to support the stories and experiences of the characters and communities the best I can."
The show will be streamed on the Save & Sound website, YouTube, and Twitch. Check out all the games part of the event on saveandsound.io
You can watch back on Day 1 of Save & Sound below:
Wishlist Saltsea Chronicles on Steam here.
---
Set in a post-flood world, Saltsea Chronicles allows you to guide a misfit crew in search of their missing captain. The investigation and the decisions you make will see you explore a series of beautiful and intriguing islands, meet different communities, and see the lives of people built on the ruins of what came before – all as you unravel the mystery at the heart of the game.
Saltsea Chronicles will be coming to PlayStation 5, Nintendo Switch and PC later this year. Watch our reveal trailer right here!
To find out more about the game head to the dedicated website saltseachronicles.com. And follow us on Twitter, Instagram and TikTok as we begin to share more about the game in the run up to launch.
Wishlist Saltsea Chronicles on Steam here.